You finally found a quiet space to unwind. By your side is your absolute favorite beverage. As you prepare to relax you slowly unwind..your special Magick candle. Its pure and luxurious scent gently whelms your senses balancing your nerves. Each inhalation brings you into a deeper relaxation. As you light the candle state your intention and enjoy the meditative crackling symbolic of the fire within you. As the ingredients melt gently massage the decadent oils gently hydrating your skin, really appreciating how your largest organ supports you.
A unique Aromatherapy lotion candle, specially formulated to relax the mind and care for dry, stressed skin in need of extra nourishment.
Using only the purest natural ingredients including a wooden wick for the natural crackle of a fire, the hand-poured Mom Magick Candle™ can be melted and used and a rich and nourishing body or massage oil which leaves your skin beautifully scented.
As a Mom of 4, I really needed to find ways to relax my nerves. A regular bath didn't cut it. So I searched high and low to create magical tools that would replenish, restore, relax, recharge and recalibrate my energy. But it was my Nana who inspired this candle.
Last year my hands started to feel a bit arthritic. The warmth of holding this candle on a cold morning and the feel of the heated cream on my hands luxuriously soothed and nourished my aching hands.
SACRED INGREDIENTS:

Shea Butter (Vitellaria paradoxa), Coconut Oil (Cocos Nucifera), Beeswax (Cera Alba), Proprietary Magick Blend of Essential oils, Himalayan Salt sprinkled in Amethyst & Citrine Gem Dust.
Beeswax candles are a great substitute for artificially scented paraffin candles and they actually work to purify the air instead of pollute it. Beeswax emits negative ions when it is burns. Negative ions are effective at reducing dust, dander, and mold that float in the air we breath.
Formulated with softening cocoa and shea butter and vitamin rich coconut oil and contains the highest possible percentage of the purest possible essential oils. With the Magick proprietary blend the Mom Magick Candle™, sooth, nourish and replenish on the physical, emotional, and spiritual levels. The Himalayan, Dead Sea and Atlantic Sea Salts purify and harmonize the ions in the air you are breathing. The Magick Candle™ relieves stress, calms, aids sleep and gently lifts your mood.
100% natural, ethically sourced and finely crafted in the U.S.A. from sustainable origins with absolutely no artificial ingredients. Burn time: 60-80 hrs.
The Amethyst dust sprinkled in your candle is being programmed by you every time you use it. This Magick Candle™ is vibrationally attuned to the most powerful and healing Maha Mantras. And I have infused this candle with divine healing energies gifted through me.
How to use The Mom Magick Candle™Ritual
1. Light the candle for 20 minutes allowing it to form a therapeutic pool of oil.
2. Blow out and allow the oil to cool for 2 minutes.
3. Remove a small amount of the warm liquid with your finger. The warm lotion provides a relaxing experience while providing relief to dry skin and problem areas.
4. Apply the warm, comforting and hydrating oils over any part of the body in need of a deeply nourishing treatment.
Directions:
Light the wick and melt the candle.
Once warm (and not hot) use the oil to rub into the skin.
The Candle Meditation Technique
As you might have guessed, a candle meditation is practiced by gazing at a candle flame.
For some people this type of meditation is quite easy, as they find it easier to let go of thoughts when they are concentrating on a physical "thing" rather than on a mantra.

For others, this meditation can be a bit of a challenge - yes it can sometimes be tricky to keep your eyes open and focussed on a candle without them blinking or watering. However, with a little practise, most people find that they gradually become very comfortable with this type of open-eye meditation.

One thing is for sure, this meditation is a fantastic way to improve your concentration skills, and it can lead you into a profoundly deep state of meditation if practiced properly.

Read on and I'll tell you how to do this meditation the right way, and how to know when you have really succeeded at it!
How to do the Candle Meditation
Before you light a candle for your meditation, take a minute to prepare the space in which you will meditate. Turn down the lights or draw your window shades closed. You'll find this meditation much easier to do in a room that's not too bright and you'll avoid eyestrain too, so make sure the room you are in is dimly lit and at a comfortable temperature.

Now light a candle and position it at eye level, or slightly below. It's OK to look down at the candle slightly, but make sure that your head is not tilted too far forward and that your body is not slumping.

It's important that you are able to maintain a comfortable upright posture that feels natural to you. Take a seat in your favorite chair, or sit cross legged on the floor, and make sure that your candle is at least 50cm away from you, otherwise it may appear too bright.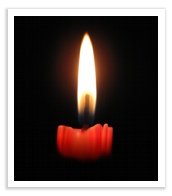 Now simply stare at the candle and allow the image of the flame to occupy your mind.

At first, your mind will probably wander about and your eyes will resist your efforts to keep them still. This is normal and it will gradually ease as the meditation progresses, so don't be too concerned if this happens to you.

You may also find that your eyes water a little. Again, this is normal and it usually dissipates quite quickly. If distractions like these arise, simply return your attention to the candle flame and let them go.

A great way to deepen a candle meditation is to imagine that you are breathing the light of the candle in and out of yourself. You don't need to perform a complex visualization exercise to do this, just keep your eyes fixed on the candle flame, and allow your natural breathing rhythm to fill your awareness.

Casually sense that the light of the candle is flowing into you as you breathe in and out. Feel a sense of purity and clarity infusing with your body and mind as you absorb yourself in this meditation.



Going deeper into the meditation
Something rather special happens whenever you go deep into a candle meditation. I'll describe it so that you'll recognize it, when it happens to you...

The reason that you are able to see is because your brain processes the signals that are sent to it via the optic nerves in your eyes. What happens as this meditation progresses is that your brain begins to stop processing these signals. That might sound dramatic, but it's actually perfectly natural, perfectly safe and a profoundly serene experience. Let me explain what this looks and feels like...

Your eyes are firmly fixed on the image of the flame in front of you and because your eyes are not moving, they are not providing your brain with any new information to process. You then find that some areas of your peripheral vision start to fade from your vision completely...

Gradually, more and more of your peripheral vision fades away until you have no visual awareness of anything but the candle flame.

This is a profound experience. Your eyes are open, but you are actually not seeing anything but the small flame in front of you. As a result it feels as though there is no distance between yourself and the flame. In essence, you have become one with the flame.

To achieve this requires both mental stillness and the physical stillness of your eyes. As soon as you move your eyes around, your brain is flooded with new sensory input and you will instantly be able to see the room around you again. Remain still and focussed on the candle, and you will slip back into this state of profoundly deep meditation quite quickly.

It may take some practice to really stabilize this experience, but it's well worth it!

At the completion of your candle meditation, close your eyes and lie down for at least five minutes as you let your body and mind come back down to earth.