A Much Needed Recipe
by Guest Blogger
Michelle Hilbrant,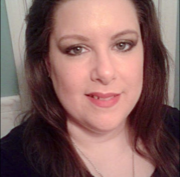 ---
Waking this morning it was such a beautiful day. I could hear the neighborhood kids playing outside, and the sounds of the doves cooing in the front yard.
Some of my family was already up, in the living room watching t.v. and laughing.
My Mom and I are in my dimly lit bedroom, checking to see if my fever is better. I often get a moderate to high fever with my migraines, and lucky me, its down and I feel a lot better than the night before. Wanting out of this room for a while," Before I start painting lewd graffiti on the walls and dirty limmericks. OK?" We both have a good laugh, she always keeps me company in here so she knows how a change of scenery is much needed!
"OK, Grab your things, especially your comfort bag."
Woah ! Wait ! What? Comfort Bag? What's That you ask?
Well, I like to think of it as my secret weapon. Something a special agent of migraine sufferers would be proud to have! And you already do!! You just have to put it together. What follows is my recipe, which you can customize to suit your needs. Enjoy and be blessed. MH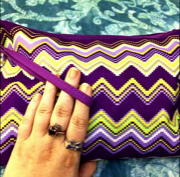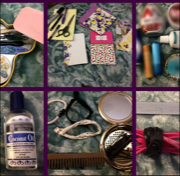 Comfort Bag


1 cool bag! I'm using a bathing suit bag. Its waterproof and has a wristlet.

2-3 smaller bags for organization

2-3 lotion, pill, or small box containers

The little things you use every day, and mini versions of some of those things, you can also pour some of those favorite things into your containers to create your own minis! I found my ontainers at the doillar store on the cheap and they were in some great colors!!

Lip balm, ( your favorite!)

Lotion (your best! And why not? That is why it is your COMFORT BAG my friend.)

Change purse

Compact mirror

Charger and cords

Ponytail holders ( great for more than just hair )

Comb and other needed hair things

Mani kit ( favorite nail color would be nice too!)

Alcohol wipes ( instant death to some nasty spills like ink, make up, an oil)

Directions:
Pack these ingredients and others that you just can not be with out into your organizer bags and lotion bottles as needed.
Next, place all items in your cool bag and zip carefully and keep at your side when not in your room!
Serves:
You and your family too!


Of course, these are just ideas, to get your creative mind going! But, the goal is to create a migraine kit or comfort bag that is portable, useful, and a bit pampering. I have some of my favorite perfume in mine as well, aromatherapy anyone?
We all deserve to feel a bit special and your comfort bag should do that too! And the added bonus is that the comfort bag, makes life easier on your family/caregivers as well. They don't have to hunt through all 4 drawers of your night table for your favorite cherry chapstick anymore. So, until we meet again, may your blessings be many and your troubles few. OXOXO MH
IG michellehilbrant,Twitter Mhilbrant, FB Precious Fay, Email michelle.Darrinswife.hilbrant@gmail.com